How can I support Philadelphia renters who are struggling?
If you want to help your neighbors in need, you may donate to the program. Donations are tax deductible and all funds donated go to rental assistance.
How do I apply for the COVID-19 Emergency Rental Assistance Program?
The application period for the program has closed.
Will there be another application period?
Probably not. We received more applications than we could fund. If we receive more funding, we will likely select new tenants for the program from those who have already applied.
I applied. How much help will I get?
All selected tenants will receive rent assistance for up to three consecutive months for up to $2,500 total. If funding permits, we will try to provide ongoing assistance for up to a year for renters who still need help after three months.
I applied. How likely am I to get help?
Funding is very limited, and we will not be able to help everyone.
How long will this program last?
The program will provide help until it is out of money.
I applied. How are people chosen for help?
Applicants are being randomly selected to go through an eligibility review.
How do I know if I am selected for the program?
We expect to begin contacting applicants in early June. It may take until mid-June for us to reach everyone who is selected. Once all the slots are filled, we will notify unsuccessful applicants.
If I am not selected, can I reapply?
If more funding becomes available for the program, we may take applications again. If we do, we will contact you by email.
I'm a homeowner facing foreclosure. Can you help?
Homeowners facing foreclosure should visit the SaveYourHomePhilly website or call the City's Mortgage Foreclosure Prevention Program at 215-334-4663.
I'm a renter. Are there other programs that can help me?
Please visit the PhillyTenant website or call the Philly Tenant Hotline at 267-443-2500 to learn about other programs for renters. There is also information on our Other Resources page.
I applied. What if I am selected but my landlord does not respond to the City or is not willing to agree to the City's terms?
Unfortunately, we need willing participation from your landlord to qualify for this program.
Are there income guidelines?
Yes. You can see the income guidelines below. Note that the guidelines apply to your income before your income loss due to COVID-19. For households larger than 8 add for each member.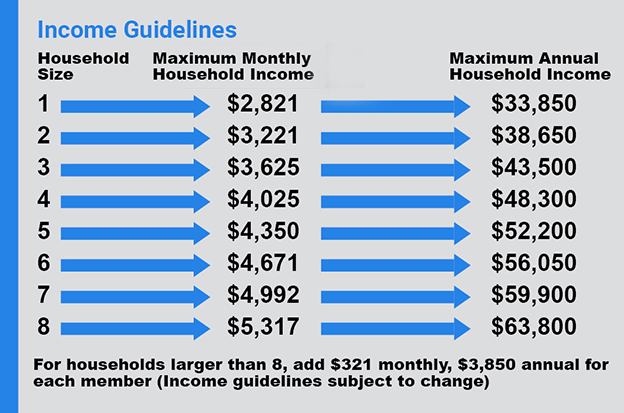 What if I lost my income before COVID-19 or my income loss is unrelated to COVID-19?
This program is only available to tenants who lost income due to the impacts of COVID-19. For other programs for renters please visit the PhillyTenant website or call the Philly Tenant Hotline at 267-443-2500.
How do I calculate my total household income?
For this program you should include all income earned by all related adults in your household in February 2020. That means you and any spouse, partner, parent, dependent children temporarily living away from you (such as at college), or adult children living in your home.
We need your gross income, which means before taxes and payroll deductions are taken out.  It includes:
Wages and salaries, overtime pay, commissions, fees, tips and bonuses;
Net earnings if you own your own business.
Interest, dividends, or other income from real or personal property;
Any payments you get on a regular basis like Social Security or a pension;
Payments such as unemployment, disability, worker's comp, TANF, child support or alimony
It does NOT include:
Any income from children under 18;
Payments received for care of a foster child or adult;
Lump sum inheritance or insurance payments
Payments to cover the cost of medical expenses for any family member, including to support a family member with a developmental disability;
Income of a live-in aide;
Student financial aid paid directly to the student or to the educational institution;
The special pay to a family member serving in the Armed Forces who is exposed to hostile fire;
Most earnings of full-time students 18 or older (excluding the head of household and spouse);
Most deferred SSI, Social Security or VA disability benefits that are received in a lump sum amount or in prospective monthly amounts